Description
The Scotch-Brite™ Heavy Duty Hand Pad 7440 is our most aggressive and durable hand pad. Its super dense construction makes it an excellent choice for your heaviest cleaning, deburring, and finishing applications.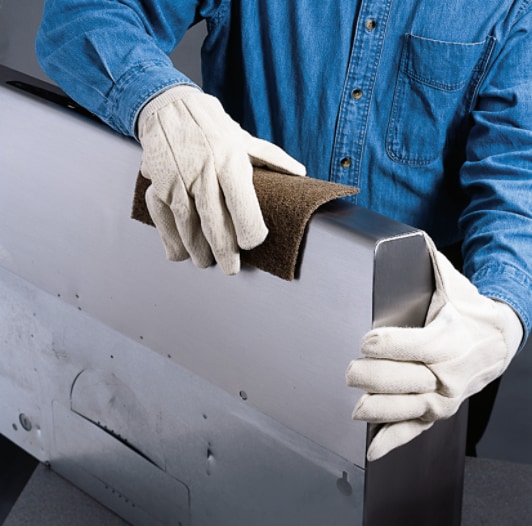 Cuts fast to remove contaminants and oxides in demanding cleaning and finishing applications
Removes the Most Stubborn Contaminants and Coatings and Leaves a Uniform Finish
When you have a demanding surface to restore and the Scotch-Brite™ maroon pad isn't quite up to the challenge, it's time to turn to the heavyweight champion of hand-held cleaning pads, our Scotch-Brite™ Heavy Duty Hand Pad 7440. This super strong pad cuts through contaminants and oxides quickly and breaks down adhesive coatings with ease. As with our other hand pads, this tan heavy duty pad removes rust and grime and leaves behind a uniform finish on the surface of the workpiece so you can achieve a quality primer or paint job.
Ultra Durable Fibers Stay Strong
The Scotch-Brite™ Heavy Duty Hand Pad 7440 lives up to its name. The ultra durable fibers can take a lot of abuse from aggressive use on the toughest surfaces without tearing or shredding. Designed to run cleaner and longer than steel wool, our 7440 pad yields results similar to steel wool grade 4, minus the rust and splinters.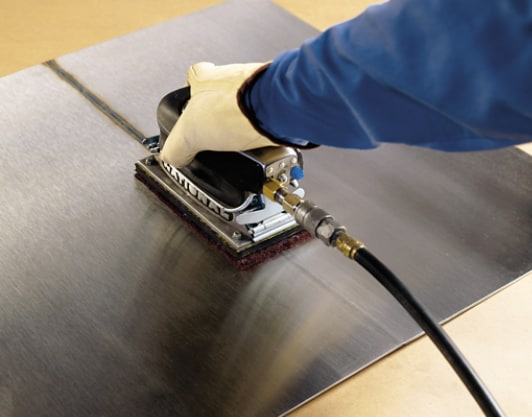 Scotch-Brite™ Hand Pads give you a fast, consistent scuff for everyday surface preparation
The Scotch-Brite™ Heavy Duty Hand Pad 7440 can be used right out of the box by hand, paired with a hand pad block, or run on an in-line sander for faster completion on larger areas.
The Scotch-Brite™ Advantage
Scotch-Brite™ is a unique surface conditioning product with abrasives incorporated into non-woven nylon fibers. Combining abrasives with the fibers creates an abrasive system that delivers consistent results over the life of the product. The open web material is load resistant and keeps the abrasive minerals cutting at high performance by limiting clogging of the nylon fibers.
Download Brochure